Who am I? ​​​​​​​

By Beth Burnett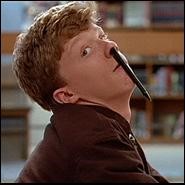 Do you remember that scene in the Breakfast Club when Anthony Michael Hall's character is writing the personal essay assigned by Mr. Vernon? Who am I? Who am I? I – am a walrus.
That scene plays in my head whenever I'm asked to write something about myself. Who am I? It seems that question is becoming more important these days, as racism, sexism, and all sorts of damaging isms come crashing down on us from the leadership of this country. Individuals have to define themselves. We are forced to decide who we are so we can make a definitive statement on where we stand.
Who am I? I'm a writer. A student. A teacher. A lesbian. An activist. A dog-mom. A cat rescuer. A friend and a lover. A radical. I'm a radical because I believe in equality for all. I believe that women shouldn't be treated like possessions. I believe a person shouldn't be in danger of being killed at a traffic stop simply because their skin is dark. I believe that people shouldn't be beaten up for being gay. I believe a person shouldn't be denied the right to enter a country because some madman has decided a certain group of people are terrorists. In other words, I believe that people have a right to be who they are in safety and peace, and lately, it seems that belief makes me a radical.
I don't want to remain silent in dangerous times. I don't want to look back on this age of the struggle between compassion and hatred and be ashamed of my complicity. People are being killed because of the hate festering in this country and we need to step up.
It isn't my intention to compare writing lesbian fiction to the actions of an activist who is out marching the streets, keeping Nazis from injuring or killing people. Certainly, writing lesbian fiction doesn't have the same impact as making calls day after day to senators and congressmen to protest the many injustices that are being perpetrated under this new administration.
It may not be activism in the standard sense of the word, but writing lesbian fiction is still activism. Being a lesbian, being queer, being gender non-conforming, being anything outside the so-called norm is dangerous. We owe it to ourselves and our readers to keep telling our stories. As marginalized groups lose more rights – as we find ourselves in more danger from hate groups who seek to eradicate anyone who doesn't fit their parameters of what's considered "American" enough, we can continue to reach each other through our writing. We can be a voice to someone who doesn't have community. We can be a light to a person who thinks she's all alone in this fight. Writing lesbian fiction is a radical act because being a lesbian is still radical. I'm going to keep calling my senators and I'm going to keep showing up for marches and protests and I'm going to keep writing because no matter what else they try to take away from me, they cannot take away my voice.
Check out Beth Burnett's latest release, Eating Life.